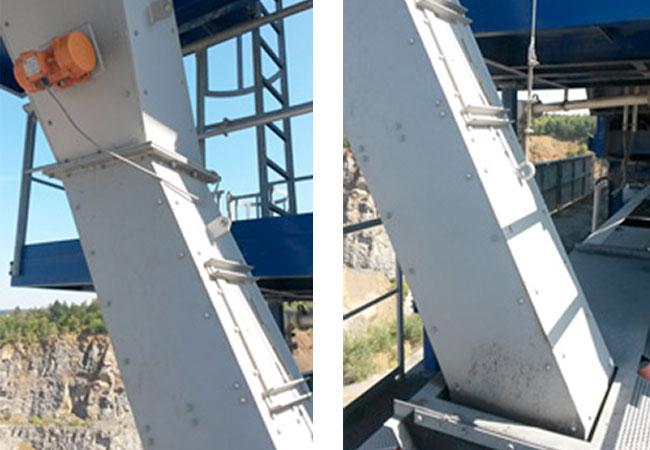 Application: Mixing plant
General:
The group is in the Rhine-Main area one of the leading partners in the construction industry when it comes to the supply of sands, chippings, gravel and especially asphalt. It has a total of more than 50 locations in central Germany, including several asphalt plants.
This includes the mixing plant in Groß-Bieberau, which is one of the largest within the group with an annual production of approx. 150-200 tons of asphalt. The mineral used is gabbro, which is mined at the same location.
Problem definition:
A major focus in our company combined with our corporate philosophy is the resource and thus environmentally friendly reuse of recycled material, which is added back to the usual mixing process.
We redesigned a transfer chute from the elevator to the weigh belt in the cold draw process in order to improve material flow.
This chute was completely lined after consultation, proposal and cooperation with the field service at the PUCEST® protect GmbH plant.
Up to 40 tons of extremely abrasive cold recycling with up to 80 tons per hour are conveyed via this chute per year.
The problems were until the redesign and relining:
1. material caking in chute, building up and clogging the chute. Consequence: knocking and poking -> deformation of the chute, due to the constant knocking, which in turn provides new attack surfaces for the caking. This causes repeated interruptions in production and a reduction in the performance of the line, as well as tying up valuable working time of the employees.
2. the transfer is a significant source of noise emissions, resulting in problems with residents in the vicinity (regular complaints)
3. high wear and tear due to the abrasive material used, replacement of the wear plates used on a rotational basis at least 1x per season Overall, therefore, a less than satisfactory situation for which we had to strive for a quick and satisfactory solution.
Solution: Installation: 3/2016
1. new design of the material guide, optimization of the material run, reduction of corners and edges and thus problem areas.
2. complete lining of the chute in the factory of PUCEST® protect GmbH.
Results to date:
After using the PUCEST® liner, material caking and sticking have improved significantly. The overall material flow is significantly optimized.
As a result, we have been able to increase the output of the entire plant and relieve the employees, which in turn creates more time for their actual tasks.
Today, there is also considerably less wear and tear than before on the chute, all this in connection with a lower noise emission. All this has led to the fact that the use and investment in a lining of the company PUCEST® protect in the cost/benefit behavior has been extremely positive so far.