The PUCEST "do it yourself" spraying system
PUCEST PUR spray system – simple, fast, seamless, clean!
On-site sprayable wear protection to solve erosion, corrosion and surface problems.
Wear:
Abrasion
Erosion
Cavitation
Corrosion
Noise
Impact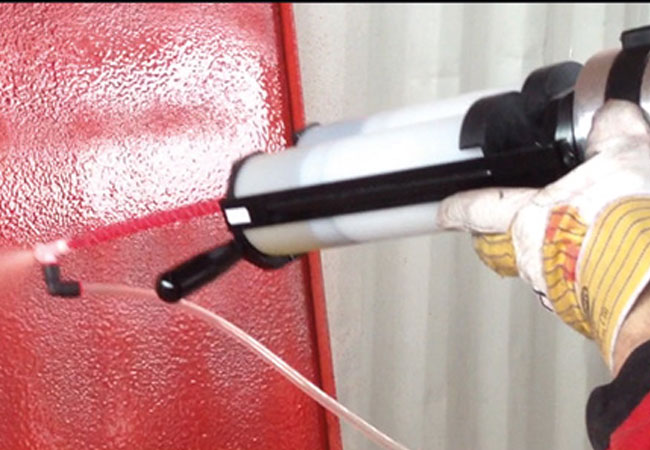 A seamless, professional surface coating succeeds.
Do it yourself – a concept not only among do-it-yourselfers.
The spray coating is applied on site, true to the motto "Do it yourself", with the spray gun directly from PUCEST PUR spray system cartridges in an optimally dosed manner onto the desired substrate. Neither lengthy bonding and screwing processes, nor external personnel are necessary for ideal wear protection.
Material details and application method
The material
The application is carried out by spraying. This product consists of solvent-free 2-component elastomer. After application, polymerization starts one minute later, so that layer thicknesses between 2 and 50 mm can be realized without flowing, even on vertical surfaces.
The PUCEST PUR spray material is suitable for practically all materials including steel, brass, aluminum, bronze and concrete. The applied surface is dry to the touch after approx. 5 minutes and ready for use after 24 hours (at 20°C). Per application the temperature resistance is dependent between -40°C and +80°C.
The PUCEST PUR spray material solidifies without tension and develops a mechanical adhesion effect in addition to the chemical adhesion. The adhesive effect permanently pulls the substrate against the coating.
The PUCEST PUR spray coating is repairable and can be applied several times.
The PUCEST PUR spray system coating is easy to handle.
The application process
The compressed air application procedure of the highly wear resistant PUCEST is quite simple. The PUCEST spray material is supplied in cartridges. On the customer's side, the supplied static mixing tube with spray head is screwed on. The spray gun is used to start the atomization process of the PUCEST spray material. The PUCEST spray material is pressed out of the cartridge packaging into the mixer and mixed. Spraying can then be started in exact doses by means of the spray nozzle.
The mixing tube with spray head must be disposed of properly after use. Opened cartridges can be removed and used again later. The device requires no cleaning or maintenance. For the protection of the user, we urgently/ always recommend the use in rooms with suitable extraction and the wearing of appropriate protective equipment (respiratory protection, eye protection, skin protection by disposable suit and gloves) see: PUCEST Accessories.