The PUCEST Universal mixing arm
High speed pan mixers regardless of the kind of their origin are subject to the same "illnesses" due to the prolonged operating time. Beginning with arm bearings and ending with a concreted rotor.
It's a real holiday for every locksmith to renew such a rotor. It's clear that the cost manager will be "happy" about the heavy bill and the production shutdown. To avoid this fear the PUCEST® has developed a universal arm. A mixing arm is suitable for every high speed pan mixer provided that its rotor is weldable. The installation is very simple.
The Solution
Consisting of:
weld-on plate
console
bearing unit and clamping unit
mixing arm
blade
Mixing arms, spring elements, control levers and other parts are removed from the removed. Arm open end holes are closed by a plate.
Adapter plates are welded. The console is fixed by four bolts as the spring unit. The arm and the mix blades are installed.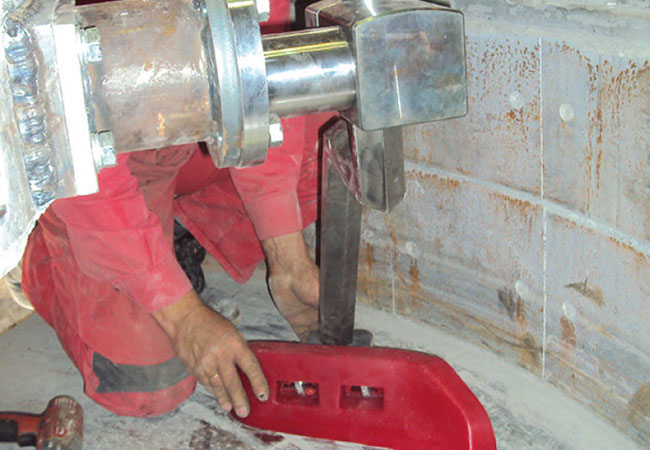 A practically new mixer appeared shortly. The advantages over the old variant are convincing: No mixing arm bearings are getting through the concrete, and paralyzing the springs No springs that can be broken. An arm which is turned in each direction and thereby can reach an optimal mix result. In order to reach a faster emptying a clearing strip can be installed.
For small parts it takes more than 15 minutes to be changed. Easy installation of the mixing arms and blades allows the system operator to perform this at the same time. Optimally installed mixing instruments mean less cleaning works and reduced wearing of blade and body.