The PUCEST mixing tools are available in the form of blades, arm protectors, clearing strips and scrapers for every type of mixer. All PUCEST mixing tools convince by their extremely high wear resistance and above-average service life.
Another advantage of PUCEST mixing tools is their specific elasticity: Mixer bottoms and linings are protected when using PUCEST mixing tools, as the plastic adapts optimally to the surfaces without scratching them.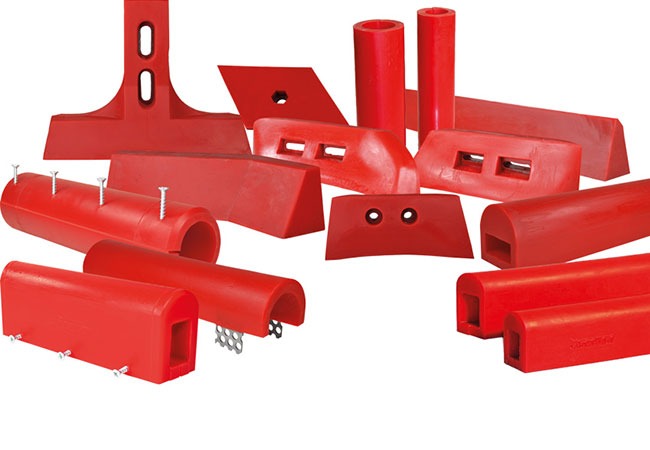 PUCEST Universal mixing tools – Suitable for almost every pan mixer
PUCEST mixing tools in different pan mixer makes
PUCEST mixing paddle
The PUCEST mixing paddle is the absolute universal mixing paddle, because it works in almost every pan mixer.
The blade is available in left and right version, thus suitable for left or right turning mixers. Due to its design, it can be used as an internal or external shovel.
The shovel has a solid milled steel core, which gives it tremendous dimensional stability. It comes to a high stability.
The aerodynamic shape of the PUCEST bucket helps to plow through and mix the material to be mixed, not to push it ahead of itself as is the case with many other buckets. This design allows the material to slide off the shovel so that the soil and walls are not pulverized.
The bucket fits e.g. in TEKA, Liebherr, PEMAT, WEMA, Fejmert, Kniele mixers. It can be installed in any pan mixer by means of the optionally available holder.
The PUCEST mixing paddle is the ideal complement to ceramic mixer bases.
PUCEST Whirler
Whirler mixing tool consisting of 3 components:
1 x swirler plate (available for each mixer)
3 x swirler bars (available in any length)
3 x whirler rod protectors (500 x 90 mm)
In case of wear, the affected swirler rods and protectors can be and protectors can be replaced individually as required.
Application example
These agitator rods were fitted with hard metal plates to protect them from wear. The plates could not withstand the stress in the mixer in the long term and broke away.
This would not happen with the PUCEST components for whirler tools. This whirler could be repaired with the rods and protectors of the PUCEST system.
Swirler in mounted condition
PUCEST impact resistant mixing blades made of tungsten carbide composite
For the most extreme loads and above-average demands on wear resistance and service life, the use of PUCEST mixing blades made of carbide composite is recommended.
The composite wear material of these blades combines the wear resistance of carbide with the impact strength, toughness and ductility of nodular cast iron.
The blades are clad with carbide platelets on the outer edges, and also have cast-in carbide grains in a zone on the wear side. The carbide grains account for about half of the wear volume. Unlike products with welded-on platelets or surfaces, in this material the two components have been bonded together insolubly in a complex casting process.
Neither platelets nor grains break out over time.
PUCEST mixing tools made of tungsten carbide spheroidal graphite cast iron compound convince by excellent service life and constant mixing results in the long term.
Advantages of PUCEST mixing tools
extremely wear resistant
impact resistant, no chipping of carbide tips
no sharp edges as with brazed carbide tips
reduction of downtimes due to excellent service lives
The PUCEST carbide composite
PUCEST carbide composite, as the name abbreviation already indicates, actually consists of two materials – carbide and nodular cast iron. The tungsten carbide component is characterized by maximum wear resistance. It is embedded as flakes or granules in impact-resistant, tough and non-deformable nodular cast iron.